Super Robot Red Baron is a 1973 Super Robot tokusatsu live action TV series. It is the first installment in the Super Robot Red Baron series.
Super Robot Red Baron
The show is set in the early 21st century where the Iron Masked Party, lead by Dr. Devilar, steals giant robots built all over the world from an exhibition and kidnap their creators to form a "Robot Empire". Scientist Kenichiro Kurenai, foreseeing his capture, turns over his own super robot, Red Baron, to his younger brother Ken Kureinai.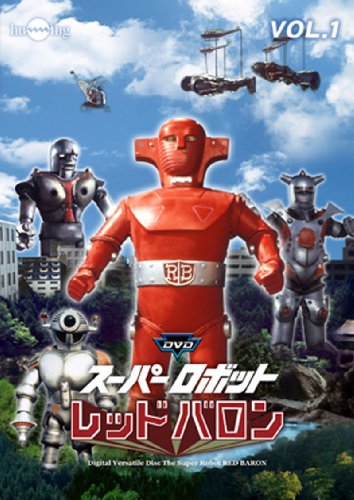 Super Robot Red Baron 1973
Ken is a member of SSI (Secret Science Investigation), a highly skilled team of scientists that practice ninjitsu, and uses Red Baron to aid the team in their efforts to stop the Iron Masked Party from taking over the world. Later in the series, the Iron Masked Party is revealed to be an organization from Mars and lead by the renegade super computer Garis Q and intends to destroy the world as practice before taking over the universe.