Ressha Sentai ToQger is a Japanese television series, the 38th installment in Toei Company's Super Sentai metaseries, following Zyuden Sentai Kyoryuger. It premiered on TV Asahi affiliates on February 16, 2014, joining Kamen Rider Gaim and later, Kamen Rider Drive in the Super Hero Time programming block, and it ended on February 15, 2015. The series has a train motif, and unlike previous series where the heroes are named after colors, the heroes in ToQger are numbered and regularly swap colors during battle.[2]
Ressha Sentai ToQger
One of the series' props, a costume used for the role of one of the villains, was used for the 24th and 25th seasons of the American Power Rangers series (Power Rangers Ninja Steel and Power Rangers Super Ninja Steel, both adapting the 2015 Sentai installment, Shuriken Sentai Ninninger). Otherwise, ToQger was the second Sentai series since Chōjin Sentai Jetman to be skipped over for adaptation into a season of Power Rangers (2012's Tokumei Sentai Go-Busters, which was later adapted into Power Rangers Beast Morphers in 2019, being the first).
Ressha Sentai ToQger
The series' main characters made a cameo appearance in the film Zyuden Sentai Kyoryuger vs. Go-Busters: The Great Dinosaur Battle! Farewell Our Eternal Friends, and appeared in a special meet-and-greet and press conference at Tokyo Dome City in late January 2014. In October 2014, the series was given the Japan Railway Award's Special award by the Ministry of Land, Infrastructure, Transport and Tourism in its annual "Train Day" observance, recognizing its effect on making children enjoy trains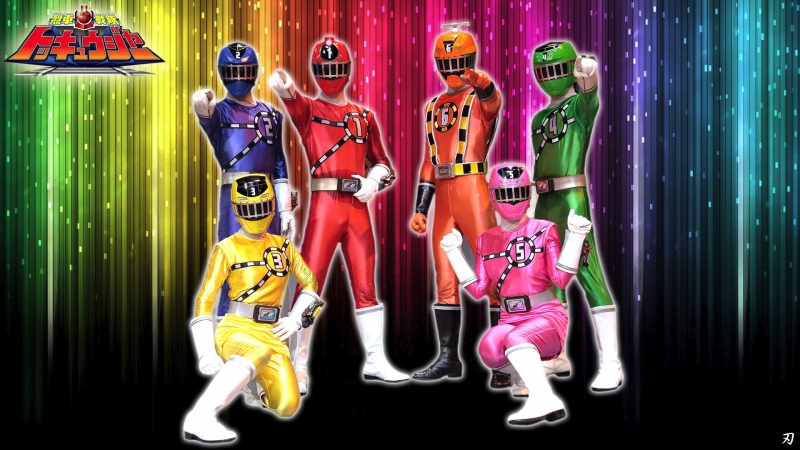 Ressha Sentai ToQger
Only those with a great Imagination (イマジネーション, Imajinēshon) can see the mystical railway known as the Rainbow Line (レインボーライン, Reinbō Rain), on which run massive trains known as Ressha (烈車)[a] These Ressha are driven by five warriors known as the ToQgers (トッキュウジャー, Tokkyūjā),[b] It is their mission to save towns from the evil forces of the Shadow Line (シャドーライン, Shadō Rain) who are using the residents' fear and sadness to establish their own railway to enable the coming of their leader Emperor Z, whose intention is consume light to plunge the world into darkness.
Ressha Sentai ToQger
The five ToQgers are also childhood friends who are fighting to recover the memories of their hometown after it was consumed by the Shadow Line's evil. Later joined by Akira Nijino, a former Shadow Creep who reformed, the ToQgers begin a campaign to free these "Shadow Towns" from their Shadow Creep Keepers in an attempt to recover their memories while the Shadow Line itself must deal with some opposition among their own subjects
Ressha Sentai ToQger