Kamen Rider Zi-O  is a Japanese tokusatsu drama in Toei Company's Kamen Rider Series. It is the twenty-ninth television series overall, as well as the twentieth and final series in the Heisei period. Toei registered the Kamen Rider Zi-O trademark on May 5, 2018. The show premiered on September 2, 2018, following the finale of Kamen Rider Build, joining Kaitou Sentai Lupinranger VS Keisatsu Sentai Patranger and later,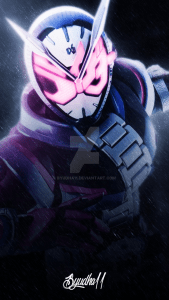 Kamen Rider Zi-O
the miniseries Super Sentai Strongest Battle, followed by Kishiryu Sentai Ryusoulger in the Super Hero Time line-up. The series has a time travel/multiverse motif while paying a tribute to all of the previous Heisei-era Kamen Riders, due to being a spiritual sequel to Kamen Rider Decade. The series and related films also feature returning actors reprising their roles from the previous Heisei series.
Kamen Rider Zi-O
Sougo Tokiwa, a high school senior born in the year 2000, dreams of one day becoming a king. Suddenly, he meets a mysterious girl named Tsukuyomi, who has come from the year 2068 with an ominous warning: "You will become Kamen Rider Zi-O, the King of Time; the demon destined to rule the world." Despite being troubled by his potential fate, Sougo becomes Kamen Rider Zi-O in order to save the space-time continuum from the Time Jackers, a group seeking to alter the history of the Heisei Kamen Riders for their own ends. He is aided in his quest by Geiz Myokoin, a resistance fighter from 2068 capable of becoming Kamen Rider Geiz who initially intended to kill Sougo to prevent his future tyranny, and a self-titled prophet named Woz, who wants the youth to become the tyrant Ohma Zi-O, who later gains the power to become Kamen Rider Woz. Along their journey, Sougo and his friends meet several Kamen Riders from the past and their allies; earning their trust and obtaining their powers.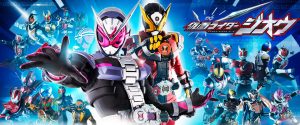 Kamen Rider Zi-O
Following his high school graduation, Sougo discovers that Swartz, the Time Jackers' leader, is actually Tsukuyomi's older brother and was manipulating both the Riders and his fellow Jackers in his plan to fuse the entirety of the Kamen Rider multiverse into a single, unified world in order to destroy it and save his world. Despite their best efforts, Sougo and his allies fail to stop Swartz until the former accepts his destiny and becomes Ohma Zi-O to destroy him. Instead of taking control of the world as it was foretold he would do however, Sougo renounces his powers in order to undo Swartz's damage; creating a new reality where he lives in peace with Geiz, Tsukuyomi, and the other Time Jackers
Kamen Rider Zi-O