Tokusou Sentai Dekaranger
Tokusou Sentai Dekaranger is the title given to the promotional material for the twenty-eighth production of the Super Sentai metaseries produced by Toei. It aired as a part of TV Asahi's 2004 Super Hero Time block with Kamen Rider Blade. The action footage from the show was used for the American series, Power Rangers S.P.D.
Tokusou Sentai Dekaranger
The story begins when Banban Akaza arrives on Earth to the city of Megalopolis. He is transferred to the S.P.D. (Special Police Dekaranger) Earth branch by his commander. By that time, Agent Abrella, an Alienizer arms dealer, turns his destructive attention to Earth, helping the criminals there. It's up to the Dekarangers to stop them and bring them to justice. The S.P.D. of Earth are stationed in the Deka Base under the command of Doggie Kruger.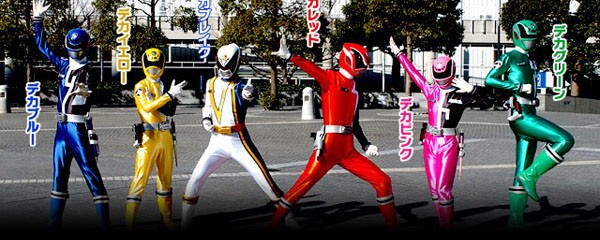 Tokusou Sentai Dekaranger