Plot Kamen Rider Amazons Season 1
Kamen Rider Amazons , known in the overseas market as Amazon Riders, is a 2016 Japanese tokusatsu web series. It is a darker and more mature reimagining of the 1974 television series Kamen Rider Amazon, and part of Toei's Super Hero Year, celebrating the 45th anniversary of the Kamen Rider Series (and the 40th series of Super Sentai).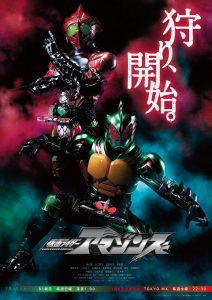 Kamen Rider Amazons
Amazon Riders was originally exclusively released through Amazon Video in Japan starting April 1, 2016.[1][2] It was also broadcast on television on BS Asahi (TV Asahi's broadcast satellite channel) starting July 3, 2016, and Tokyo MX starting July 6, 2016.[3][4] In a similar vein as the reboot films based on the Shōwa era series, Kamen Rider: The First & Kamen Rider: The Next, Kamen Rider Amazons takes place in an alternate universe separate from the main series timeline.
Haruka Mizusawa is a meek young man who became infected with Amazon Cells (アマゾン細胞, Amazon Saibō), which are created by the Nozama Pharmacy company (野座間製薬株式会社, Nozama Seiyaku Kabushikigaisha). This causes Haruka to transform into the feral berserker Amazon Omega as he strives to assert his humanity while fighting similarly infected creatures called the Amazons (アマゾン, Amazon).
Kamen Rider Amazons
Haruka also encounters the Nozama Peston Service (ノザマペストンサービス, Nozama Pesuton Sābisu), Nozama Pharmacy's Amazon hunters, and Jin Takayama, a former cell biologist at Nozama Pharmacy and Amazon hunter who becomes Amazon Alpha. Later, Jun Maehara, a member of Nozama Peston Service who died once during an Amazons attacks, is revived into Amazon Sigma.