Gosei Sentai Dairanger is a Japanese tokusatsu television series. It was the seventeenth production in the long-running Super Sentai metaseries of television tokusatsu dramas produced by Toei Company, following Kyōryū Sentai Zyuranger. It was originally broadcast from February 19, 1993 to February 11, 1994. Toei gave this series the name Star Rangers for international distribution.[1]
Gosei Sentai Dairanger
Elements from Dairanger were adapted into the second season of Mighty Morphin Power Rangers, specifically the action sequences between the giant robots (which became the Power Rangers' Thunderzords) and some of the monsters. None of the Dairanger costumes were used in Power Rangers, except Kiba Ranger's, which was adapted into the White Ranger's costume for Mighty Morphin Power Rangers for the remainder of Season 2 and throughout Season 3: the suits from the previous season, Kyoryu Sentai Zyuranger were instead used for the other Rangers in that show (The end credits listed the show as titled Dai Rangers). The core Dairanger costumes in the footage were not used in Power Rangers until Power Rangers Super Megaforce.
Gosei Sentai Dairanger
In July 2015, Shout! Factory announced that they would release "Gosei Sentai Dairanger: The Complete Series" on DVD in North America.[2][unreliable source] On November 10, 2015, Dairanger was released on DVD in North America. This is the second Super Sentai series to be released in North America. In addition on May 23, 2016, Shout! streamed the series on their website
Gosei Sentai Dairanger
Eight thousand years ago, the Daos civilization flourished in Southern China. The civilization consisted of three separate tribes: the Dai, the Shura (the ancestors of today's humanity) and the Gorma (the military tribe); which lived in harmony. However, one day, the Gorma Tribe decided to take over the Daos civilization and the world, beginning the war between the Gorma and Dai tribes. The war between the Gorma, led by the Gorma Triumvarate, and the Dai continued for 5,000 years until the Mythical Qi Beasts appeared to oppose the Gorma, whose Qi[Note 3] powers had increased to the point that they could turn themselves into monsters.
Gosei Sentai Dairanger
Five Dai warriors' Qi powers had increased to the point where they could control the Mythical Qi Beasts. The war ended with the disappearance of both the Dai and Gorma tribes and the Shura scattered around the world. In the present day, the Gorma Tribe, one of the Daos' two missing branches, arose to take over the world. To counter them, Master Kaku assembled a team of five youths with high levels of Qi, who became the Dairangers.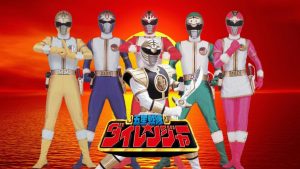 Gosei Sentai Dairanger