Kamen Rider Ghost is a Japanese tokusatsu television series serving as the 17th Heisei Kamen Rider Series, and 26th series over all. Takuro Fukuda serves as Ghost's lead screenwriter, with Satoshi Morota as director. It premiered on TV Asahi and affiliate stations throughout Japan on October 4, 2015,

Kamen Rider Ghost
the week following the finale of its predecessor series Kamen Rider Drive, joining Shuriken Sentai Ninninger, and later, Doubutsu Sentai Zyuohger in the Super Hero Time programming block.
Takeru Tenkūji, whose father was a ghost hunter who died 10 years earlier, dies at the hands of an evil monster known as a Gamma (眼魔, Ganma, Eye Demon) while trying to protect his childhood friend Akari Tsukimura from an attack. A mysterious hermit brings Takeru back to life and bestows upon him the Ghost Driver transformation belt and a Ghost Eyecon (ゴースト眼魂, Gōsuto Aikon, Ghost Eye Soul), an orb-shaped device which can see ghostly creatures like spirits of dead creatures, Gamma, and other Riders. The hermit tells Takeru that he has 99 days to gather 15 additional heroic Eyecons in order to be brought back to life permanently, and must fight the Gamma as Kamen Rider Ghost to obtain them.
Kamen Rider Ghost
He is assisted by the Buddhist monk Onari, who previously supported his father as a ghost hunter, and Akari, who tries to find more scientific and logical reasons behind their supernatural encounters. In his way are Makoto Fukami, a mysterious living young man capable of utilizing a Ghost Driver to transform into Kamen Rider Specter (仮面ライダースペクター, Kamen Raidā Supekutā), and the Gamma led by Chikara Saionji, an associate of Takeru's late father, and Alain, the son of the Gamma leader, who later acquires the means to transform into the anti-hero Kamen Rider Necrom (仮面ライダーネクロム, Kamen Raidā Nekuromu).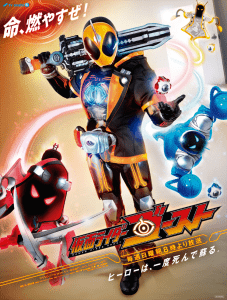 Kamen Rider Ghost
The Riders of Kamen Rider Ghost use Eyecons to transform and summon the hooded jacket-like spirits called Hoodie Ghosts (パーカーゴースト, Pākā Gōsuto) like the spirits of historical figures such as Miyamoto Musashi, Thomas Edison, Tutankhamun and Isaac Newton to grant them new powers
Kamen Rider Ghost