Plot J.A.K.Q. Dengekitai
J.A.K.Q. Dengekitai is the second installment in the Super Sentai metaseries. It was aired from April 9, 1977 to December 24, 1977. It was created by Shotaro Ishinomori, and was screened for 35 episodes. It marks the first appearance of a White Ranger in the franchise. Toei distributes the series internationally under the title The Jackers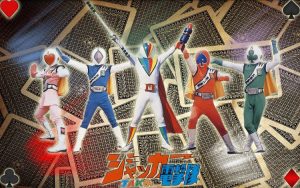 J.A.K.Q. Dengekitai
Iron Claw is the leader of a global criminal empire known as "Crime". Crime has a network of wealthy, influential sympathizers and employs an army of faceless, leather-masked thugs and cyborg assassins. It seeks to become the most powerful mafia organization in the world.
To combat the threat of Crime, ISSIS, the International Science Special Investigation Squad, is formed. The focus of the series is ISSIS's battles against Crime in Tokyo and Japan.
J.A.K.Q. Dengekitai
Tokyo's ISSIS branch commander, Daisuke Kujirai, proposes a radical experiment. Taking the code name "Joker", he recruits four young test subjects to undergo his cyborg enhancement project: Goro Sakurai, a multi-talented athlete and Olympic Gold medalist; Ryu Higashi, a disgraced boxing champion; Karen Mizuki, a policewoman who has been critically injured; and Bunta Daichi, an oceanographer who is clinically dead and is being cryogenically sustained. All four are surgically altered and given various bionic enhancements as well as energy manipulation powers. They are given the code name J.A.K.Q. Dengekitai, or J.A.K.Q (pronounced "Jacker"), and the mission to destroy Crime. Later in the series Joker leaves to head ISSIS's advanced engineering branch, and Sokichi Banba, a master of disguise and a cyborg, becomes their new boss, known as Big One.
J.A.K.Q. Dengekitai