Bakuryū Sentai Abaranger
Bakuryū Sentai Abaranger  is Toei's twenty-seventh production of the Super Sentai metaseries, and the first series to use TV Asahi's current logo. It aired as a part of TV Asahi's 2003 Super Hero Time block with Kamen Rider 555. The series is based on dinosaurs and explosions. Its action footage was used in Power Rangers Dino Thunder. In addition, episode 10 in nearly its entirety was used for episode 19 of Power Rangers Dino Thunder as an English-dubbed show that the Dino Thunder Power Rangers discover on television.
Bakuryū Sentai Abaranger
Scientists believe that 65,000,000 years ago, a meteorite's crash on Earth killed off the dinosaurs, but in truth, it split Earth into two parallel universes: Dino Earth (ダイノアース, Daino Āsu), an Earth where dinosaurs were still the superior species, and our Earth, referred to as Another Earth (アナザーアース, Anazā Āsu) by the residents of Dino Earth. Over time, the Dragon People (竜人, Ryūjin) and Bakuryū (爆竜) races came into being on Dino Earth but were at war with the Evoliens, entities that emerged from the meteor. The two Earths are separate until Asuka, one of the Dragon People from Dino Earth, arrives on Earth via a transdimensional portal.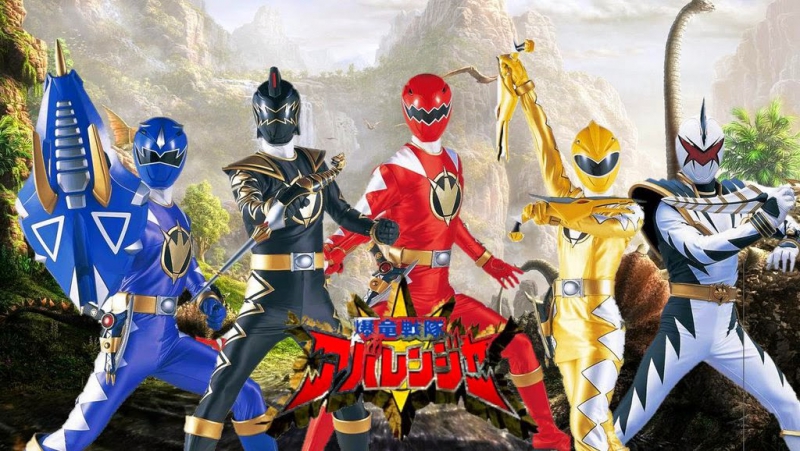 Bakuryū Sentai Abaranger
However, he is followed by the Evoliens in their Anamolicarus spaceship and the three Bakuryū under their control. As the Bakuryū Tyrannosaurus, Ptreranodon, and Triceratops attack Tokyo, a call is sent out to three destined ones who possess Dino Guts (ダイノガッツ, Daino Gattsu) to gain the power to tame the three beasts. Together with their Bakuryū partners, the three become Abarangers to protect their dimension from the Evoliens. In time another Abaranger appears, but he takes the name "Abare Killer" and fights the others while the Evoliens carry out their ultimate goal: the resurrection of their god.
Bakuryū Sentai Abaranger