Plot Choujin Sentai Jetman
Chōjin Sentai Jetman is a Japanese tokusatsu television series produced by Toei Company and Bandai. It is the fifteenth entry of the Super Sentai metaseries, following the previous series Chikyu Sentai Fiveman. The series aired on TV Asahi on February 15, 1991 to February 14, 1992, with a total of 51 episodes.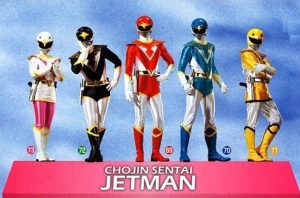 Chōjin Sentai Jetman
It is the first Sentai series where the Blue and Yellow Rangers switch genders in the three male/two female team (the male wears yellow and the female wears blue), which would not occur again until Mahou Sentai Magiranger. It is also the last Sentai series until Ressha Sentai ToQger to not get adapted into a Power Rangers series.Shout! Factory released Jetman in North America on September 25, 2018. This is the 10th Super Sentai to be released in North America and the only one that is non-Power Rangers adapted.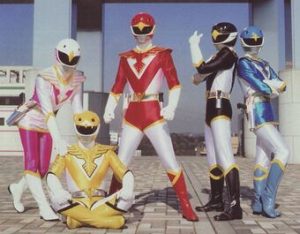 Chōjin Sentai Jetman
This series takes place in 199X.[Note 2] On the Earth Ship, the command center of a defence agency called Sky Force, the guardians of peace on Earth, scientists have developed "Birdonic Waves", a newly developed technology which gives the subject superhuman abilities. Experiments called "J-Project" were successful. Aya Odagiri, the director of the project, chooses five elite Sky Force officials from Earth to use this technology. Ryuu Tendou, one of the Sky Force officers, is successfully exposed to the Birdonic Waves, making him the first Jetman, the Red Hawk.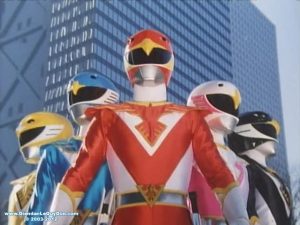 Chōjin Sentai Jetman
However, the Earth Ship is suddenly attacked by Vyram, an evil outer-dimensional organization bent on inter-dimensional domination. They successfully destroy the ship, apparently killing Ryuu's lover and fellow candidate member Rie. In the chaos, the remaining Birdonic Waves for the other four officials become scattered on Earth, hitting four civilians. Odagiri and Tendou successfully escape and begin searching on Earth for the four remaining Jetmen, training them to aid them in stopping Vyram's plans of conquering their dimension.The series later follows the tribulations of Ryuu as he learns of Rie's survival and enlistment in the Vyram forces, as well as a love triangle between Gai, Ryuu, and Kaori.
Chōjin Sentai Jetman