Kamen Rider Zero-One is a Japanese tokusatsu drama series produced by Toei Company and TV Asahi. It is the 30th series in the Kamen Rider Series, and the first series in the Reiwa period run.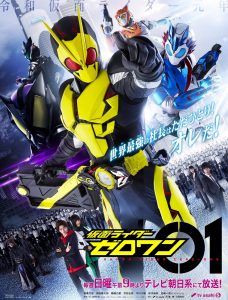 Kamen Rider Zero-One
The show premiered on September 1, 2019, following the finale of Kamen Rider Zi-O, joining Kishiryu Sentai Ryusoulger, and later, Mashin Sentai Kiramager in the Super Hero Time lineup. Similar to Kamen Rider Amazons and Kamen Rider Build, this series takes place in an alternate continuity.
Japan has entered a new era of technological innovations as Hiden Intelligence, the leading company in artificial intelligence research, develops human-like androids called HumaGears, which quickly become a staple in both public and private sectors. However, a cyber-terrorist organization known as "MetsubouJinrai.net" starts hacking into HumaGears, transforming them into monsters called "Magias" and turning them against humanity. The government responds by establishing the Artificial Intelligence Military Service, or A.I.M.S., to destroy them.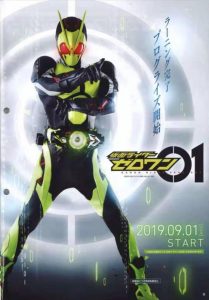 Kamen Rider Zero-One
The story primarily follows Aruto Hiden, a young man with aspirations of becoming a comedian who suddenly finds himself appointed as the new CEO of Hiden Intelligence after his grandfather's death. Despite his initial disinterest, Aruto changes his mind after witnessing MetsubouJinrai.net's terrorist attacks firsthand; maintaining appearances as CEO while becoming Kamen Rider Zero-One to realize his late father's wish for a peaceful co-existence between humans and HumaGears. This places him in an uneasy alliance with A.I.M.S. operatives, Isamu Fuwa and Yua Yaiba, who can transform into Kamen Rider Vulcan and Kamen Rider Valkyrie respectively, against MetsubouJinrai.net; led by the rogue HumaGears Horobi and Jin, who can also transform into Kamen Riders.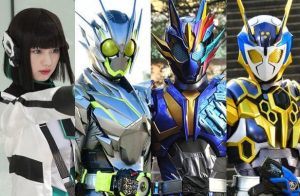 Kamen Rider Zero-One
All the while, Gai Amatsu, the CEO of Hiden's corporate rival ZAIA Enterprise, initially watches their battles from afar before moving forward with his own agenda to destroy all HumaGears and create a society only for humans with his company in the forefront. He later develops the Kamen Rider Thouser system to achieve his goals and personally enter the fray as well as devices to transform humans into "Raiders". As the ideals of Aruto, Gai, and MetsubouJinrai.net collide, a three-way battle takes place to decide the future for both HumaGears and mankind.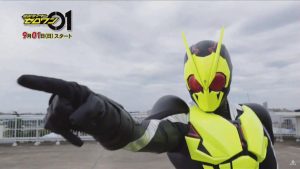 Kamen Rider Zero-One