Plot Kikaider REBOOT
Kikaider REBOOT is a 2014 Japanese tokusatsu film which acts as a reboot/relaunch of the Kikaider franchise created by Shotaro Ishinomori, released on May 24, 2014 by Toei.
Kikaider REBOOT
Set in the near future, Dr. Nobuhiko Komyoji was the head of the robot engineering project "ARK Project" to use robots peacefully to solve problems beyond human control.
Dr. Komyoji however died during an experiment and a year later the project was headed by his rival Gilbert Kanzaki and the Minister of Defense Tsubakiya who had begun to use the project for their own personal benefits rather than its original objective.
Kikaider REBOOT 2014
To revive the original project, Jiro aka Kikaider, an android with a Conscience Circuit created by Dr. Komyoji has appeared to protect his creator's children Mitsuko and Masaru who have the key to complete the project.
In the near future, the Japanese government develops the ARK Project, led by Dr. Nobuhiko Kohmyoji, to create androids to help public citizens. Two prototypes are constructed: one by Dr. Kohmyoji, Jiro/Kikaider, an android built with an experimental Conscience Circuit, and another by Professor Gilbert Kanzaki, Mari, a combat-based android.
Kikaider REBOOT – The Movie
Dr. Kohmyoji mysteriously dies and his children, Mitsuko and Masaru are suddenly targeted by Japan's Defense Minister. Jiro comes to their aide and vows to protected them, a final request from Dr. Kohmyoji.
Masaru becomes fond of Jiro but Mitsuko becomes wary of him. Mari eventually finds Jiro and nearly destroys him but spares him after Mitsuko and Masaru agree to go with her without resistance.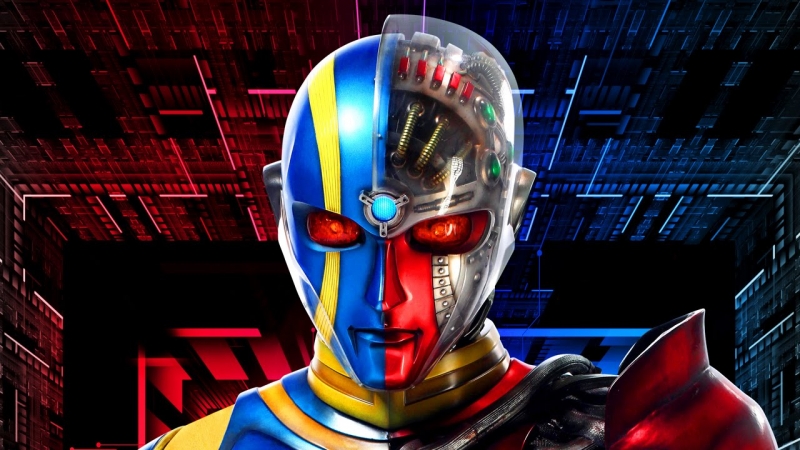 Kikaider REBOOT – The Movie 2014
A data chip is then retrieved from within Masaru's body, containing all of Dr. Kohmyoji's research. The Defense Minister then turns the ARK Project into the DARK Project (Developing Advanced Research by Kohmyoji) and forces Professor Gil to complete his work.