Kamen Rider Fourze the Movie: Space, Here We Come! is the theatrical release of the 2011 & 2012 Kamen Rider Series drama Kamen Rider Fourze. The film was released on August 4, 2012, alongside the film for Tokumei Sentai Go-Busters, Tokumei Sentai Go-Busters the Movie: Protect the Tokyo Enetower!. The film is also featuring the debut of the lead character of Kamen Rider Wizard, Haruto Soma.
Kamen Rider Fourze the Movie: Space, Here We Come!
A transaction meeting Gamou was to have with Foundation X goes awry when a mysterious woman named Inga Blink steals replica Horoscopes Switches for space warfare. Telling Hayami and Tatsugami not to pursue, Gamou tells them they will have the Kamen Rider Club deal with her. At Amanogawa High School, Mr. Ohsugi takes Gentaro, Yuki, Kengo, and Ryusei out of computer class and takes them to the Rabbit Hatch to meet up with the rest of Kamen Rider Club.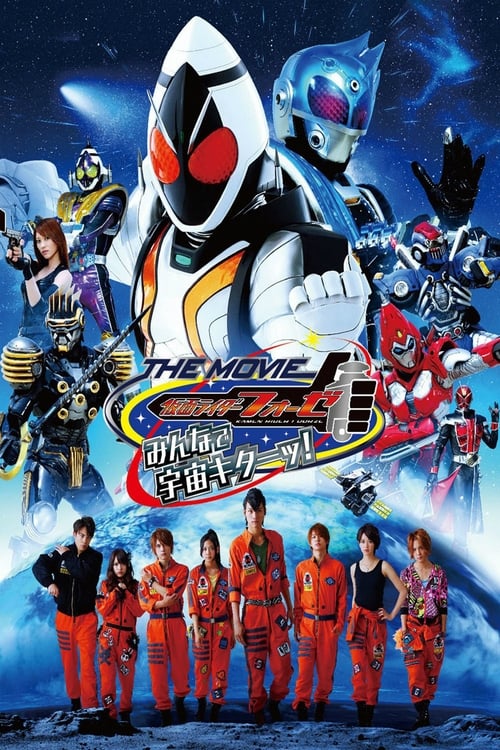 Kamen Rider Fourze the Movie: Space, Here We Come! 2013
There, they meet a strange lady named Shizuka Shirayama who is a member of OSTO Legacy and requests the Club's assistance. Agreeing to help, the Kamen Rider Club members are taken into a bus and blindfolded for security reasons. But on the way, they are attacked by a robot named Black Knight. Transforming to hold the pursuing Black Knight at bay, Kamen Rider Fourze battles the attacker while Ryusei and the others find themselves boarded by Inga Blink who Ryusei fights while getting her out of the bus. However, Inga destroys the accompanying van to blocks the road while wounding Ryusei with a one-inch punch. When Fourze arrives, warning the Kamen Rider Club not to interfere, Inga summons Black Knight to take her away.